Cirrus is in the race! We had a smooth start at 12 noon PDT about 3h ago and tacked our way out of the bay. The Golden Gate bridge has already disappeared (admittedly the fog helped a little bit), so it is not going to be as in 2000, where we enjoyed the sight of the bridge for a few days. We are moving along.
We expected the forecasted 35 knots of northerly wind, combined with 5 m waves, which would have been about 10 knots and 3m above our comfort level. Instead we are barely getting 10 knots of wind, and it is coming from the southeast! Waves are no more than 4 ft. So much for the weather forecast. The reason appears to be a Low sitting right at the exit of the bay, which had formed very recently. We are going slowly at 6 knots, but at least we are going almost exactly in the direction we had planned for.
The 96h weather forecast came just in by radiofax. It is predicting a high to be forming where it is supposed to be for the summer. This is the first hint this year that this is going to be a "normal" race. We'll see.
Everyone is fine on board, including Caroline after she had given her dues to the gods of the sea.
Aloha,
for the crew of Cirrus,
Ulli
---
Report from Cirrus is reasonably good news. Although the wind died in the middle of the night and they slatted around for awhile, it filled in from BEHIND as dawn was breaking and they now have the chute (spinnaker) up and are moving along at about 8 knots. They don't expect the wind direction to last but it would be wonderful if it did.
They are, according to their calculations, currently third in their division behind Ikaika and Tutto Bene. California Girl has been, essentially, following them and seems to still be there. Weather report - cool, overcast and misty.
Unfortunately, Caroline is still suffering Neptune's revenge but they are giving her serious talks about better living through chemistry.
That's pretty much it for today. Position as of 0900 PDT was: Latitude - 36 deg. 52' N, Longitude - 123 deg. 52' W
Aloha for now. Valerie.
---
One spinnacker down, two to go!
A lot of things have happened since the last mail.
The wind became weaker as the day went on. During the night we struggled to keep the sails from flapping in a "wind" of 3-4 knots, but had little success. The sky had a full cloud coverage, which has not changed since.
This obvously meant that the night was pitchblack. The wind picked up a little bit during the early morning hours, just enough to raise the spinnacker. At 6 am the light kite was flying, and with the wind increasing a little bit more we repeatedly reached 8+ knots, topping out at 8.7 (skipper at the helm). It became warmer during the day - still full cloud coverage - then the dolphins and purpoises started playing around the boat, California girl was in sight but well behind us, so life started to look wonderful. After the first rollcall of the race we found by using our on board tracking software that we ranked third in our division (out of 7), but all boats were tightly clustered with daily runs in the narrow range of 78 to 93 nautical miles. This should have been closer to around 140, so that day was slow for everyone, and results are not very relevant. Interestingly, we and California Girl were the most southerly boats. Tango was even above rhumbline (direct line between two points as drawn on a chart; greater distance than a great circle), which is an unusual course for the expected conditions; we like our position more. The forecasts are now consistent in predicting a stable Pacific High in the way it is supposed to be for this race.
The swells, which had ranged up to 2 meters yesterday, slowly increased in height up to about 4 meters today. Nothing to worry, but it made driving interesting. Such conditions are expected much closer to Hawaii. Also, getting the chute up that early in the race is also very unusual. It set a record for Cirrus.
Unfortunately, we also set the record for earliest breaking of a spinnacker.
The wind freshened up a bit through the day, and at 6pm it happened: a gust of wind and we were carrying the spinnacker under the boat. It was tangled solidly, so we had to cut it loose. No chance of repairing, possibly not even when back on land. Back to the white sails. Our frustration was then topped by seeing California Girl go by in the distance. Upcoming drizzle didn't help much for the mood. We resorted to eating and had Valerie's first dinner.
This helped!. We then raised the smaller, stronger kite and are sailing well, even hitting the 8 knot mark occasionally. At the very minimum we could stop California Girl from disappearing completly. They go even more southerly then we do, so much will depend on who took the best bet at the weather.
By the way, we have troubles with our high tech satellite phone. While voice communication works well, this cannot be said for data transmission, like email. So emails from the boat may come sporadicly only. Also note that the email address is different from what I had mentioned earlier, it is now: cirrus@gmn-usa.com.
The race can also be followed on the web, at www.pacificcup.org . If you like to see the weather forecast, you can find it here: weather.noaa.gov/fax. Go to the Surface Analysis and pick any of the Part 1 links.
Aloha,
for the crew of Cirrus,
Ulli
June 29, 2004 9:25pm PDT, Lat: 35N 51', Lon 125W06, Course 202M, cold, drizzle, full cloud cover
---
This morning found us again at third place in division and third place overall. But the position of the boats looked very different. Instead of being the most southerly boat, we are now the most northerly, except for Tango, she stays even above rhumbline. This is a risky course; if this fails, she will be up for jokes. The reason for most boats to go south is quite simple: #1 being south is almost always good for the race, and #2 if you have the spinnacker up to go fast, you really can't drive a more northerly route. That's why we changed from the shy kite to white sails about around midnight. The wind had freshened up again, and even under white sails we were doing 8+ knots. The fact that we came out third today despite our spinnacker mess of yesterday speaks for the excellent conditions that we enjoyed overnight. At 6am this morning, we had so much heel that the port rail was underwater for almost all the time. We decided to put a reef in, and kept sailing with less heel at basically unchanged speed. The reef came out 4h later, when the wind calmed down a bit. We are only making 6+ knots now with the wind at beam. Spinnacker wouldn't work, so there is not much we can do at this time.
The sky kept its full cloud cover and probably will remain so for today. A glimpse of hope was seen at 8 this morning, where a little blue patch made its way throught the clouds. It still seems to be unusually warm. It feels already ok to have no more than long underwear, shirt, fleece jacket and foulweather-gear on. The double underwear is not needed any longer! Almost cozy conditions this early in the race.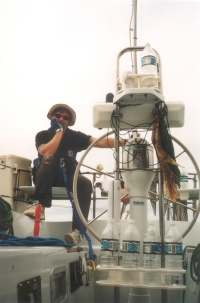 The big swells have subsided for the most part. Now it is normal wave activity of some 1 to 2 meters. They come from the side, which makes the boat quite wet. A particular nasty wave dumped some gallons of water on me, much of which found its way through the neck of my jacket and soaked my underwear. I can certify that the water is still too cold for taking onboard showers.
It is time to introduce the crew on this boat. There is Bill Myers, boat owner and skipper, a resident of Hawaii. Caroline Heinrich, also from Hawaii, David Burch from Seattle, George Neill from Sacramento and David Littlejohn ("John" for us, to avoid confusion with the other David) from Richmond, and myself, Ulrich Steiner ("Ulli") from Germany. And then we have Otto Helm (I don't know, the spelling might be different, like Autohelm) the invisible guy who drives the boat for us. It is kind of frustrating for us seasoned sailors to see this mechanical thing drive the boat so well, but it is quite convenient, in particular when it is cold and wet at the helm.
June 30, 2004 1:00m PDT, Lat: 34N 36', Lon 126W50, Course 218M, cold,dry, full cloud cover
Aloha,
for the crew of Cirrus,
Ulli
Valerie and Bill : Happy Anniversary to you!
---
... and again on third place in divison. But the picture has changed. Both California Girl and Ikaika seem to have changed their minds and moved (much) more north. Both boats are very close to us (but unfortunately ahead of us). By the way: we cannot see them, nor have we seen any other boat or ship in the last 2 days.
We were not doing so well during the last day. One of the reasons is the missing spinnacker. We put up th shy kite early afternoon yesterday, and eventually hit the magic 9 knot boatspeed barrier. Unfortunately, these conditions didn't last for the night. For the night the lost spinnacker would have been more appropriate. In the morning hours the wind direction had changed a little bit and we could raise the third spinnacker, which is large, but also a bit on the heavy side. Again wind got weaker and we were wishing for the light kite again. Right now we are back again to good wind of 10-15 knots, and we reach again into the 9 knot region. Hope it lasts for the night.
The sea is almost flat today. Waves are no more than 1 ft, and swells no more than 3ft. Almost no whitecaps visible on the water. Swells seems to be increasing again.
It sure got warm today. We struggled to get into less warm clothing, and were even driving dressed in a t-shirt. Quite unusual for this time in the race. The clouds broke up occasionally, and the sun even came through for a while, making us reach for the suntan lotion.
First days are always a bit awkward, as you have to get used to the cramped quarters, the boat motion, the coldness, the excitement and simply the new situation. We are now getting more and more into the routine, as visible from the small daily things, like making breakfast, lunch, and in particular, dinner. Dinner is the only time when the crew is together in the cockpit. When Otto is driving, then we can all sit down at the same time, otherwise the two guys on watch will have to eat later. But the watch people have to be on alert, in case Otto is doing something weird.
Since George had his birthday today, we did a little celebration - flashlight had to do in lieu of candles - and had our Cornish Hen dinner, which was originally meant for the 4th of July celebration. I should mention that we have most of the dinners precooked (great cudos to Valerie!), then deep-frozen, and are storing them in the onboard refrigerator, which got an extra supply of dry ice. The food is frozen like a rock, and the dry ice should last for 10 days. Then we'd better be over the finish line.

Speaking of food - Caroline had put out the fishing line about noon. No fish yet, but she'll try tomorrow again.
July 1st, 2004 21:30m PDT, Lat: 32N 05', Lon 130W12, Course 220M, warm, dry, almost full cloud cover
Aloha,
for the crew of Cirrus,
Ulli
---
This morning's report was a relief and a dissapointment. Bill no longer sounds blue but they are not going as fast as they would like to be. He says, "We are not going very fast, we are not winning the race, but I don't know how to do it better. I have the best crew in the race, the limitation is the boat." Well, in my book doing the best you can is darn fine!
Current position (0730 PDT) - 31deg 31' N, 131deg 09' W
They had a good birthday celebration yesterday for George Neill and David called Vena today to wish her a happy birthday - Happy Birthday, Vena! Good people born in July!!!
That's it until Ulli's wonderfully newsy report we hope will continue to show up each afternoon.
Aloha, Valerie
---
Yeehaa! A little success in the race made our day: we have sneaked up one spot and are now on second place in the division. The fact that overall performance of all boats was rather poor, and we still gained some 7 miles on both Ikaika - whom we passed - and California Girl seems to suggest that we do at least something right. All boats seems to be having the same course in mind, with the notable exception of Tango, who is still north near the rhumbline, but she is heading south as it seems. This division might approach Hawaii in a tight cluster.
The night yesterday started great, but then the wind got lower, and eventually we had the sails flapping. Very much like in 2000. And like then the sea was flat again. There is more wave activity on the San Francisco Bay on any day of the year than here in the middle of the ocean right now. If it weren't for the long, broad - but low-height (< 2ft) - swells it could be just like on any city pond. Like in 2000, it's time again for the prayers for more wind; help us out of the doldrums!
In the morning, after fiddeling around with the sail trim, and going awkward angles, George finally convinced us that we needed to jibe. So we did the first jibe of the race (also an event happening earlier than usual). At least we got the boat going, but it was very slow. And now we are hanging out in absolutely no wind since more than an hour. A slight drizzle set in, but we are sitting on deck in t-shirts, so a little rain is not a problem. The sun has come out again for moments, otherwise the cloud cover is still almost complete.
However, for the first time this race we saw a beautiful moonset of the full moon, followed by a sunrise. The clouds opened just at the right spots at just the right moments. Wonderful sight. We could even see a star or two through gaps in the clouds, but no more than that.
To celebrate our little victory, Caroline decided to make cookies and soon after the smell of freshly baked cookies wavered through the boat. Wonderful treat.
Then we noticed smoke rising in the distance. We had not seen any other boat for 3 days, but this might have been the location of another racer. We hailed them on emergency radio, but did not get an answer. Eventually we could see a very odd looking ship with a huge smokestack on board. We guessed they are burning some hazardous waste. Fortunately, the smoke did not get in our direction.
A little accident is also to report. David misstepped and sprained his ankle slightly. Since we have no water-ice on board to use for cooling, we resorted to applying a bandage of frozen turkey - still in its original plastic package - and fastened it with sail ties. Seems to have worked well, he is doing ok.
People have started to take saltwater showers; San Francisco is history, we are on Hawaiian mood!
(sails still luffing, looks really bad. John is working desperately to keep the sails in some kind of decent shape)
July 2st, 2004 1:50pm PDT, Lat: 31N 27', Lon 131W25, Course ??? (undefined, we try to go 220M), very warm, dry, almost full cloud cover, sun is out
Aloha,
for the crew of Cirrus,
Ulli
---
Sorry this is so late! Bill says he slept late (this is a good thing) then decided to check the water in the batteries and then thought he had done all he had to do (!!) until he remembered he hadn't called home. (not a good thing) - he is forgiven.
Due to the light winds they had yesterday, Ikaika and California Girl both gained substaintial miles on them and they think they are back in third (we'll see the official when the site posts later this morning)
The winds are back (but could use more - don't stop the good thoughts) and the spinnaker is pulling nicely.
David's ankle is "no problem" - evidently he hurt himself while trying to climb a shroud to put up a tell tale. Dumb bunny - these scientists.
So - position at 0945 PDT: Lat 30 deg. 30' Lon 133 deg. 08'
For those smart enough (sorry) not to have hotmail, attaching some pictures of yesterday's start. The picture shows Morpheus, a 50 ft (!) yacht, on the left, and Mari Cha IV in the rest of the picture.
Aloha till this afternoon, Valerie
---
Good thing we celebrated yesterday, because today we are back to No. 3. California Girl is first, Ikaika second. Tango actually did best, but they are north on rhumbline, and that has (so far) not done them good.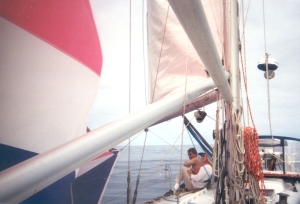 Overall the day was lousy for all boats. The others may not have it experienced as badly as we did, but we were stuck in no wind from the morning to the evening. It had all the ingredients of 2000 : the sea was plain flat, apart from a light ondulation it had no waves, not even any ripples on the water. Like molten lead. The hours passed and there was nothing we could do. Our spinnacker was too heavy to be kept filled in the little puffs that came occasionally, the light one would have been great, but it ain't no more.
It was warm, though, and we had a little sunshine through hazy skies. We started to take the first saltwater showers. Now here comes again the story about the saltwater usage on the high seas, which nobody believes until they try it: You can shower in saltwater, do NOT need to rinse with freshwater, and will NOT have that itchy feeling, which you may remember from your vacation at the beach. You can even wash your hair and the hair will fly in the wind just as with freshwater. My explanation is that most of the effect comes from organic material like proteins, which are likely to be present in coastal waters in a higher concentration than in the middle of the ocean.
We shower either in the head (for non-sailors: head has nothing to do with mental activities; in fact it is more related to metabolic activities of the other end of the human body) or on deck, which I prefer. For the latter we use a special harness, so that you don't get overboard.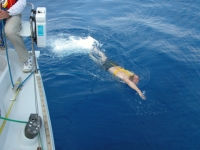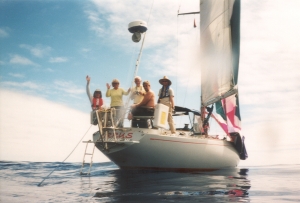 Actually, David did go overboard! Bored as we were, David suggested to check the bottom of the boat for any possible remnants of the spinnacker, which might be stuck at the keel or propeller and slow us down. So he got into the harness, was tethered with a long line, got the diving goggles and jumped into the water. The boat bottom was all ok, but now we got some great pictures of the boat, taken from outside the boat in the middle of the ocean.

Finally, in the late afternoon hours, a squall - a kind of very localized rainshower - came by bringing some wind, and we went from an almost standstill to 8+ knots literally within minutes. Surprisingly, the night was ok, but couldn't quite compensate for the bad day. Today it was better, but far from good. This is a slow race again. All available weather data suggest that it will remain so. Expected arrival time is currently July 14. This will probably improve to the 13th, but the 12th is doubtful.
The late night watch reported a wonderful starry sky. A few hours later, cloud cover was back. However, today afternoon the sky broke open and we got more sunshine than we cared for. Thick cloud cover at the horizon, but no clouds where we were.
Freshly baked cornbred for today's beef stew dinner rounded out the day. What a wonderful smell from the oven. Fishing line was out, but no catch.
July 3rd, 2004 9:30pm PDT, Lat: 30N 13', Lon 134W24, Course 240M, very warm, sunny, dry, water temp not quite Hawaiian yet
Aloha,
for the crew of Cirrus,
Ulli
---
Happy Fourth to all except those in the rest of the fleet? (Bad sport, I know, I'm sorry) Bill says that it's a beautiful day. They are sailing along nicely but the rest of the fleet is either pulling ahead or catching up....so they are not in the best of spirits. We continue to be hopeful but.......it's getting harder.
Position at 1000 PDT: Lat 29 deg 55' Lon 135 deg 55'
You all aren't trying hard enough...where are all those good wishes, good voodoo, good energy, good vibes....COME ON! We have to get them moving.
Aloha,Valerie
---
This is not going to be our race. Not only did the first two boats gain on us, but then we got the data for Tutto Bene and realized that they had kicked us back to 4th place. Tutto Bene has been absent from radio communication for the last three days due to a failure of their radio system, and so we had no idea about their standing. Apparently they managed to get their data to the race committee through email.
As if this wasn't bad news enough, we then discovered that the goose neck had broken!
The goose neck is the connection of the boom - on which the lower part of the mainsail is attached - to the mast. It is one of the key essential pieces of a sailboat's rigging. The boom has a very significant weight, which is now swinging more or less freely and is rammed into the mast with every movement of the mainsail. This surely raises concerns, and skipper suggested to take the mainsail down. Our jaws dropped since this would basically have been the end of the race for us.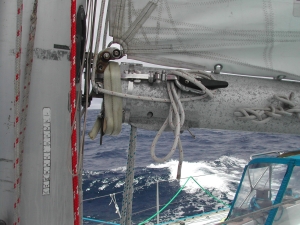 But it got creative juices flowing. Eventually we developed a fix that is somewhat reminescent of the Gilligan's Island stories. The fix involved a piece of wood, a wood file, a chisel, an old bolt, a sailtie, 3 hose clamps, 2 carabiner hooks, and steel bandages fastened with the banding tool. It seems to work. George joked that it couldn't have been so hard, since a solution was found despite the fact that 4 Ph.D.s were working on it. Keelhauling comes to mind....
During our activities at the mast we had the mainsail and the big spinnacker up. George was driving the boat. This was a good thing, since in the course of the process the wind picked up, the boat reached 8+ knots speed, the sun was frying us on deck and the seas were building. It felt a bit like in a Western movie where the good guy is always fighting the bad guy on the roof of a fast going railway car, only that the boat also adds sideways motion.
The Western theme was continued into the afternoon and evening with a Bronco ride. The wind reached 15 knots, and we had long swells of up to 2m height and waves up to 1m. That would not have been all that bad, except that the swells came from the side and the waves from behind, resulting in completely unpredictable motion of the boat. This went along with a good rain in warm air. It was fun! We still managed to keep a good pace. Hopefully it stays like this during the night.
We got fish, but not with the fishing line. A flying fish landed on our boat ( about 12 cm long, wing span about the same). We are seeing them occasionaly since 2 days, but they will be more frequent when we come closer to Hawaii. We took appropriate photographic care of him and then gave him a sea burial.
No boat or ship sighted since we last saw this presumed waste burner vessel.
Everyone on board is ok and enjoying the trip.
July 4th, 2004 8:15pm PDT, Lat: 29N 51', Lon 137W28, Course 254M, 7.5kn, very warm, sunny, rainy, windy
Aloha,
for the crew of Cirrus,
Ulli
---
Finally heard from Bill. What a relief! After yesterday's mishaps I was getting plenty worried! But all is well. The repairs are holding and they decided to gybe but had to do so pretty carefully under the circumstances. Decided to go due West for awhile to try to get the wind the rest of the fleet is getting. He says they are putting in the poorest performance in their fleet but still believes he has the best crew and, therefore, doesn't know what else he could be doing. (Cheat??? oh, well, guess not!)
So - 9AM PDT position report - (before the gybe) lat 30 deg 03' lon 139 deg 14'
Please note: I will be flying back to Hawaii tomorrow so there will NOT be a morning report from me. I will forward Ulli's report when received (to those who don't get it directly) and will resume the morning reports on Wednesday.Keep the faith
Aloha,Valerie
---
We had a resonably good ride yesterday, but so did the other boats. We are still on 4th place, and boats #3, #4, #5 and #6 are pretty close together. It remains interesting.
Winds were nice yesterday, but the bronco ride turned into a bull ride during the night, making driving challenging and did not let the boats take much of an advantage of the wind. Cirrus had 173 miles per day, which is about 10 miles less than best days in 1998. That year is still Cirrus' best year.
The day was mostly uneventful. We did a jibe in the morning, which was a bit delicate due to our Gilligen's Gooseneck, but it worked out ok. We are now pointing pretty much directly to the islands, but expect to need a few more jibes. Hopefully the gooseneck will last; we have to be careful with the load we put on it.
Wind was great today, getting close to 15 knots. But the sea became a bit wilder. The waves and swells are hitting us from behind. You've got to pay attention at the helm. It is a real workout to be driving for 40 min.
I should mention our watch system. With a six people crew and two per watch, each person needs to cover 8 hours per day, divided into 2 segments of 4 hours on and 8 hours off. My watch e.g. is from 4am-8am, and from 4pm to 8pm. The boat time is always PDT (Pacific Daylight Time) and the schedule never changes. One person on watch is changed every 2 hours. The newcomer will not go at the helm until after 20 min. This is quite an important rule, in particular during the night, when the newcomer is still a bit sleepy.Many accidents on a boat occur shortly after watch changes, because the new person(s) first need to find the rythm of the current conditions. Each person is then at the helm for 40min, followed by 40 min on stand-by, tending the lines or taking care of other duties. This schedule works out fine, and makes the watch changes a bit safer.
It was warm today. Scattered clouds hit the sun every now and then, which made the heat more bearable. Still no boat or ship seen. We got a fish on the hook, but lost him while pulling in. So we had the pork chops for dinner, and freshly baked cookies for desert, and declared this as our half-way party. (The half way point is actuall still half an hour away).
Special drink of the day was cooled, sparkling Martinelli apple cider. I did mention that we have no alcohol on board? No wine, no champagne, nor else. The drink of the day is alway water, at a comfortable 80 degrees F.
Having a cold drink was great.
July 5th, 2004 9:00pm PDT, Lat: 29N 23', Lon 140W 40, Course 224M, 7.2kn, very warm, sunny with clouds, windy
Aloha,
for the crew of Cirrus,
Ulli
---
Ranking in the race is largely unchanged, but we are being challenged by the ones behind us. California Girl and Ikaika are well ahead and are doing a great job, it is unlikely that we can catch them, unless they have some technical problems. And why should only Cirrus have those problems? But realistically the fight is for third place. We'll do our best. For the next days this is basically a horse race, with all boats going almost in parallel directly to the finish line. All weather faxes, obtained from the radio, grib files for wind and pressure, satellite generated wind scans, obtained from the internet, all suggest a weather pattern unlikely to change.
We reached the half-way point last night after 9pm PDT - we had still daylight - and blew the horn to honor the moment. The horn is a pressurized air sirene, that surely gets your attention. Everyone jumped up a foot, when I did it, including the ones already sleeping. The distance San Francisco to Hawaii (from San Francis Yacht Club to Kaneohe, on the island of Oahu, harbor bay entrance, to be exact) is 2069 nautical miles as measured via a Great Circle, or roughly 4000 km. In other terms this is about the distance from New York to San Francisco, or Moscow to Portugal, which we go along at bicycle speed. Interestingly, there is no place on earth, where land is further away than from our half-way point. Now it is going downhill, arrival might even be on the 12th.
Some other sound came up this night that got even more of our attention.
Close to midnight a sharp BANGG sounded through the boat. Everyone got up, we expected the Gilligan's Gooseneck to be broken, but no, it was fine. Bill and John went for a thorough inspection of the boat. The moon was not up yet, the sky had only a few clouds, and in between the clouds was a magnificent, starry sky visible, breathtakingly finely dotted with stars. Part of the reason that this beauty showed up, was the deep darkness of the night. Which didn't make the boat inspection easier. In the night only red light is used on board, which leaves the eyes adapted to the darkness. Switch on a white light and you are blinded for minutes. But how else could you look up the mast? The sea was rough, the wind strong, and with the white flashlight on, the going got interesting. Fortunately we had George at the helm, and he seems to perform best when he has a few guys on the foredeck, hugging the mast. Nothing was found and we went back to bed with an uncomfortable feeling.
Bill found the problem the next morning. A block (i.e. a roll, guiding a line) on the top of the mast, which is guiding the spinnacker halyard, was broken, and the spinnacker line was chafing in the mast opening. We got the spinnacker down immediately. It was a disaster in the making; at the minimum it would have cost us the big spinnacker, our only hope for doing anything useful in the race. We raised the shy kite, did some repairs of a few small holes in the big spinnacker, and reraised it on the second halyard. All working fine.
We also caught fish yesterday evening, shortly before susnset : a tuna, a good 2 1/2 feet long! That does not mean that we ate it. To do so would have required to get it on board first, and this is where we flunked. Lifting this guy on board by the fishing line is simply not possible. Lesson learned (I hope). We had the crab stew for dinner.
Valerie forwarded us the message, which is attached below. So we got into the history books of the Pacific Cup with the Gilligan's Gooseneck. We'll present this as a suggestion for the fun awards; we think we have earned it!
By the way: we beat Mari-Cha's ("fastest sailboat on the planet") performance on both days on corrected time! Corrected time supposedly accounts for the different designs of the boats. Mari Cha can do 500 miles per day, we would be happy if we ever reached 200.
July 6th, 2004 9:30pm PDT, Lat: 28N 05', Lon 143W 34, Course 230M, 6.2kn, very pleasant, sunny with clouds, moderate wind
Aloha,
for the crew of Cirrus,
Ulli
---------------------------------------
excerpt from an e-mail sent to the boat by Valerie:
Thought you might enjoy this from the web site:
Messages from the ocean includes something in common with Cirrus and Mari Cha IV -- both have had problems with their gooseneck, the connection of the boom on which the lower part of the mainsail is attached to the mast. Cirrus reported a repair that was "somewhat reminiscent of the Gilligan's Island stories." But it was a product of the four PhDs on board. Mari Cha IV's repairs were probably far more sophisticated but with both vessels, successful. Both are both moving forward. And there the similarity ends.
The usual stories of flying fish and squid attacks are coming through as are some of penguin sightings. It should be noted that the penguin sightings were following Mai Tai hour.
---
The saga continues! I am back in Hawaii (weather is glorious, wind is light) so will get calls again (I hope) - Mari Cha IV expected to cross the finish line today - breaking previous crossing record by about a day. Will be checking in at KYC today and the activities should be ramping up. V.
---
Back to the routine! It's 5:30 AM here and the birds are chirping their wake up calls. Even at this hour it was great the hear from our gang again!
They are going along smoothly - no new disasters during the night. The seas are even and they, as we spoke, have fewer than 800 miles to go. Not sure if that is nautical miles or not but since it is from the GPS it is probably land miles. The GPS also said they should be in in 5 days and 9 hours given their current rate of speed. If they were Mari Cha IV they could be here tomorrow! Darn!
Position - lat 27 deg 32 min lon 144 deg 45 min
More tomorrow (plus the world famous author U. Steiner's report this afternoon)
Aloha, Valerie
---
Ranking in the race has not changed so far, but it does not look awfully good for us. This day is again a very light wind day with moderate seas. We were cranking along at 4 - 6 knots. That's the best we can do with a rather heavy boat and a big but heavy spinnacker. We would probably be doing much better going to weather, but the forecast has nothing but light easterly wind to offer. This is not our race.
But something else worked really well today. We got fish! At about noon our fishing line snapped out, and Caroline jumped to the job. Pulling in was pretty hard with a 38.5 inch (about 1 m) Mahi mahi on it, who didn't want to give up but faught hard. Mahi mahi is in fact a beautiful fish, with scales colored in golden green, to golden yellow to red, and the colors were changing slightly depending on the angle you looked at it. Anyway, it was transformed (Caroline and Bill did it) into a sashimi for lunch, complete with soy sauce and Wasabi. You couldn't get it any fresher, the taste was awesome. Dinner was fish, of course, combined with rice and peas.
We ran out of the bottled drinking water. From now on we use the water from the boat's water tanks, which unfortunately tastes a bit stale but is otherwise ok. We mix the water a bit with Gatorade powder and other concentrated juices. In addition to the tanks, we also carry 6 jerry cans, each with 5 gallons of drinking water. One of which is emergency water. It must arrive at the finish line untouched, otherwise we would be counted as DNF (did not finish).
We heard that the Honolulu newspaper printed a story about the race, in which our Gilligan's Gooseneck was mentioned at prominent place. Funny how things get around.
The sun was burning hot on us from a blue sky. In the night was fully overcast, during the day the clouds largely disspated, and were visible only at the horizon. Not much else to mention today, as said, it is a calm day, way too calm!
July 7th, 2004 9:40pm PDT, Lat: 25N 45', Lon 146W 13, Course 236M, 6.4kn, very warm, lots of sunshine, few clouds, very light wind, moderate seas.
Aloha,
for the crew of Cirrus,
Ulli
---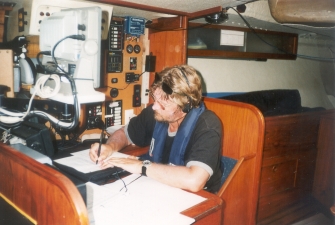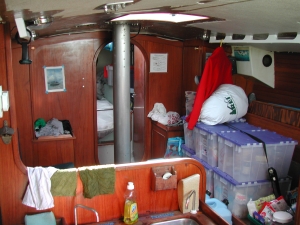 Both pictures were taken from almost the same position, the left one looking forward - towards the bow - and the right one looking backwards - to the stern.

---
Good morning - or as good as it gets when we aren't even going to "place" in this race.
Bill reports that the sailing is mellow, the wind good, the course set, and the sailing enough of a challenge so that they don't fall asleep at the helm. Except for the early days, they have continued to drive by hand since it is a bit too challenging for Otto (Helm).
Evidently the story of Gilligan's Gooseneck made it into the Honolulu newspaper. Not exactly how they would choose their 15 minutes of fame but fun anyway. Ulli is, yet again, an internationally published author.
Current position is Lat. 26 deg. 12', Lon. 147 deg 41' with 623 miles to go (this was at 1000 PDT or 0700 HST) They estimate 3.5 or 4 days to go.
Aloha, for now - Valerie
---
The news for today is certainly the crossing of the finish line by Mari Cha IV at about 6pm Hawaiian time. The record for the fastest Pacific Cup crossing was soundly broken: 5 days 5 hours 38 minutes 10 seconds. More than a day (!) faster than Pywacket, the boat owned by a Disney grandson, which set the previous record in 1998!
Mari Cha is an impressive boat of 140 ft length (Cirrus has 40 ft), 33ft width (Cirrus: 13.5ft), two carbon fiber masts each 148 ft tall (Cirrus: 1 mast of 58ft), a crew of 30 (Cirrus: 6), and a weight of only 59 tons (Cirrus: 12 tons). Its grey hull and wide beam immediately reminds one of an aircraft carrier.
They started 4 days later then we, and have arrived probably 4 days earlier then we might do. To compare such vastly different boats, the Pacific Cup uses a rating system which - at least in theory - accounts for the different boat designs. Mari Cha gets a rating of 0 (zero) and e.g. Cirrus gets a rating credit of 7 days, 20hours, 1 minute and 30 seconds. This time will be subtracted from our actual finish time, and the final ranking is based on the resulting times. At first it sounded ridiculous that Mari Cha owed us almost 8 days. No more! To beat Mari Cha we would have to arrive on Sunday, July 11, before 4:39 pm Hawaiian time. That currently seems to be impossible.
Our ranking hasn't changed much; we seem to be gaining on boats behind us - in our and other divisions - and seem to loosing on the ones ahead of us. With that little wind the chances for keeping up are slim.
With regard to the wind, this day is another disappointment. In the early morning hours we went through a squall, which kept us really busy for about an hour with speeds exceeding 9 knots. We even had to go through some firedrill with regard to the spinnacker sheet (the line, by which you trim the spinnacker). Adrenalin was flowing again. After that the wind calmed down and since many hours we are sailing at very light wind with 5-6knots. The sea is moderate; swells and waves barely reach 3 ft.
Apparently the conditions were still enough to challenge our Gilligan's Gooseneck. A bolt, stainless steel, 1 cm diameter, broke and we rushed to fix it. No further damage, works again. Then we discovered that the boom vang was about to lose a bolt (repaired), and a shekel, holding our outrigger for the spinacker trim, unscrewed itself and was lost to the sea (repaired). Yesterday the foot pump for the seawater feed to the sink got loose (repaired). One bank of our batteries seems to have a charging problem. Not a big deal currently; it will last until we cross the finish line, but we are paying a little bit more respect to the power management on board. We heard on the radio that another racer had hit a telephone pole, which was floating in the water. Some damage done, but the boat can continue on its own.
We still have not seen any other boat or ship.
During the 2000 race, we saw 3 ships during the whole trip, and the masthead lights of one racer briefly. All of the ships were basically on collision course with us, and we hailed them on the radio to make sure they could see us and would change their course. Where is everybody this year?
Arrival is now expected for the noon hours of Monday, July 12th - unless the wind keeps playing tricks with us.
July 8th, 2004 8:15pm PDT, Lat: 25N 34', Lon 148W 45, Course 220M, 5 - 6kn, very warm, lots of sunshine, few clouds, very light wind, moderate seas.
Aloha,
for the crew of Cirrus,
Ulli
---
Call this morning sounded reasonably happy - beautiful sunny sky, fabulous blue ocean, 10-12 knots of wind driving them directly towards the finish line with only 460 miles to go. ETA is now about 6 AM Monday.
The big "news" is that C Squared broke her mast. This must have been dramatic as she is a "freedom" design with no shrouds to hold it up. Much radio, coast guard etc excitement has ensued. They reported that all were fine, no problems except that they are low on food (must have thought they were going to make a record passage) and that they have already seen all the DVDs they have on board (!!) (Must make the double handed sailors weep.)
All boats were alerted to a "large metal object" (Probably a container) submerging and re-surfacing. They have the lat. and lon. and will keep an eye out.
Bill and I shared a laugh about Ulli's spelling of "shackle" as "shekel" - his, under the circumstances, is probably more accurate.
Position at 1000 HST Lat - 24 deg. 54' Lon 150 deg. 10'
Aloha, Valerie
---
The news of today is the demasting of C-squared. About 4 am today their hi-tech carbon fiber mast broke at about 12 ft above deck. At rollcall time (9am) they announced the trouble over radio. No one of the crew of 5 was hurt. The boat is a Wyleycat 43, i.e. a boat with a single mast on the foredeck, no jib, only a mainsail and a wishbone as a boom. It looks like a huge windsurf-board. The boat is rated as fast. Their radio setup seems to have been very poor, and the broken mast did not make it better, as they were always very difficult to understand on the radio. Initially they had asked for fuel - at least that was what was relayed via radio - but later they said to need food only. The fleet went into a whole fuzz on this "emergency" situation. What finally distilled was: they had food for 3 days, 40 gallons of water (we currently have 30 gallons left, for 6 people and 3 days), fuel for 150 miles, and could jury rig. i.e. put up a makeshift sail to allow sailing.
The fleet was asked to provide assistence in the form of sharing food with them. We were about 60 miles behind them, and since they said to make 5 knots, it would have taken us till tomorrow morning to catch up with them. Another boat, Mar Caballo (#4 in our division), was closer to them. They eventually made contact and handed over some food, then went back into the race. C-squared "retired from the race".
While all this seems to be sad and dramatic, there is more to be told. One week before the race the boat was trucked down to the Bay Area in pieces, that needed to be assembled, and then the boat would be let into the water for the very first time. Since the boat wasn't in existence, there had never been a test on the boat's seaworthiness, no offshore test, and no shakedown trip of any kind. Almost all deadlines that the Pacific Cup organizers had set for providing information on the boats and that were demanded by other sailors were ignored for this boat, and still the boat was accepted for the race. Makes you wonder. If safety was a concern for the skipper and or the organizing committee, how could you better demonstrate their failure of properly assessing the situation than by the demasting in relatively light wind? The poor radio, the lack of adequat emergency rations and apparently also low supply of fuel, in particular for a boat that has never performed anywhere on water, underlines a certain ignorance. Expecting provisioning from other boats simply means that ballast is shifted from the own boat to other sailors, who did a more considerate preparation of their boats for the race, and thereby suffered in performance due to the heavier load. I should point out that this is my personal opinion, as I expect that this incidence will stir up some discussion and finally hopefully reemphasize the safety aspect of such an undertaking and the respect to other sailors who struggle to do a more timely preparation. While the Pacific Ocean is usually rather calm on this route - this year possibly even calmer than usual - it is still an ocean after all with unpredictable events.
Other news is that Magnitude 80 had come in as second boat in a time (my calculation: 6 days 6 hours) that would also have beaten Pywacket's record from 1998.
At the same time, we were slowly doodling on the waves. Actually, it wasn't that bad. We were pleased that we performed better than two of the boats ahead of us, and further increased the distance to the boats behind us. Still a tough chance to catch up to 4th place, not to mention 3rd place. The day had some exiting moments during the early morning hours before sunrise. Otherwise it was more of a family picnic sail with low wind and seas. Today it freshened up a bit, it was a bit bumpy, but still more like a "Friday night buddies sail" than what one would expect that close to Hawaii. Based on our interpretation of the various weather forecasts, we expect winds around 15 instead of 10 knots for tomorrow and our last day, which would likely also result in more waves and swells. Maybe we get some treat at the end?
We now expect arrival on Moday the 12th at about 9am HST without better wind and 6 am with it. It might shift to an even earlier time if the wind is stronger than expected.
...........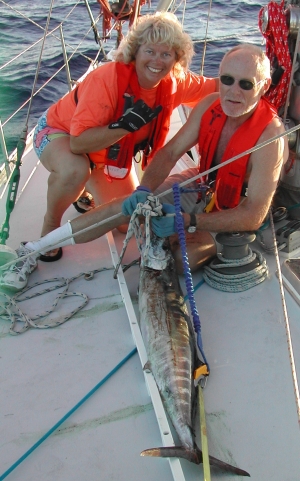 I had to interrupt my typing for a few minutes as Caroline has just caught our second fish! A Barracuda of 49" (1.25m) , a real fighter, with a dark grey on the back to light grey on the underside colored body, and light vertical stripes. A very pointed mouth with impressive teeth that suggest caution. Has rather small side fins but a strong tailfin. Caroline and Bill are now preparing the fish. We already had dinner (turkey), so tomorrow is fish day.

Caroline had volunteered to take up the chores of the food preparation, and nobody objected. Using Valerie's precooked meals and applying various enhancements and creations, we surely had a good life as much as meals are concerned. But running the stove and the oven under these hot conditions outside and poor boat ventilation made it for sauna like experiences down below. Thanks for doing a such a great job, it was much appreciated!
We still have plenty of food on board, and with the Barracuda in addition, we may have to circle the islands, before we cross the finish line. The one exception is coffee (real one, not the instant stuff), which makes me insist on the fastest approach to Kaneohe. Do they have Starbucks?
It is hot. No place to hide except under the dodger, and there is place for only two. It was so nice only a few days ago, when we had to wear double underwear to stay warm. Oh well.
Caroline just reports that we got 22 steaks from the fish, each one cut to feed a hard working crew!
382 miles to go
July 9th, 2004 10:15pm PDT, Lat: 23N 59', Lon 151W 27, Course 233M, 7 kn, very, very warm, lots of sunshine, few clouds, moderate wind, a bit bumpy seas.
Aloha,
for the crew of Cirrus,
Ulli
---
Have you ever had fresh Barracuda? Oh boy, you are missing something, We got a midnight snack made from one of the steaks, lightly fried in a pan in olive oil, lime, pepper and a little bit of garlic. It was awesome! And enough to feed all of us. Only 21 steaks left.
Aloha,
for the crew of Cirrus,
Ulli
---
When Bill called this morning he was still full of barracuda stories. Sounds like a high point of the trip. He said they were so determined to not lose it that, after gaffing it, he slid his leg down the gaff and held the head with his foot. 35# of thrashing fish muscle has translated to aches in every muscle of Bill's body this morning (reported with that wonderful prideful tone that men are so good at!)
They were passed by Puna Hele last night and could still see her at 1000 PDT. They could also see huge sails that they guessed belong to Icon. Weather and sailing continue mellow - Blue skies, puffy white clouds, minimal seas, winds at 10-12 knots.
Evidently C-squared has "declared herself back in the race" after declaring, yesterday, that she had withdrawn. No Comment!!
Position: Lat 23 deg 24' Lon 152 deg 51', Distance to go: 298, ETA now about 1 AM Monday. (When I groaned, Bill offered to slow down but I don't think he was sincere.)
I have conveyed to Ulli the appreciation of his many fans for his writing - both the fact of it and the style. More tomorrow. Valerie
---
Our standing in the fleet has changed very little. A little bit of gain to the boats ahead of us - but the race is too short to catch-up with them - and good gains against the boats behind us. It could well be that the boats behind us are sitting in a lull just as we did, and the closer you get to Hawaii the better it gets. Better, not good, mind you. The talks during Children's Hour (the free-style radio communication between the boats at 5pm, where telling the truth is optional) seem to support this notion. At least the debates' focus on the sufficient supply of toilet paper seem to suggest that there were more pressing matters than fast sailing...
Something new happened: We met two other sailing boats! After 10 days of not seeing any boat nor ship - ignoring the waste burner seen in the distance - we crossed tracks with two racers at almost the same time. Greetings were exchanged via VHF radio with Punahele; we couldn't reach the other boat. It was probably Icon. Soon after they changed course to south, which seemed a bit strange, and they were gone out of sight quickly. We are alone again on the wideness of the Pacific.
Actually, the world which we see is much smaller. When we are standing on the deck of the boat, the horizon is approx. 3 miles (~6 km) away. When e.g. a sailboat is further away, like 6 miles, we can likely see the mast with sails, but due to the curvature of the earth cannot see the hull of the boat. So all we see around us is a disk with a radius of 3 miles; our little world that stays with us as we go.
Once again the weather forecast was a lot better than the actual weather. The predicted 15 knots of wind turned out to be barely 10 knots, but to be fair we did have a little bit more wind, and had it a little bit more consistently. But to put this in perspective, let me quote from an article about the Pacific Cup history: "In 1988 winds were lighter than usual at 15 to 22 knots, and the seas were smooth". In 2004 we would be pleased if we reached even the low end of that low range. Anyway, we don't expect to fall into a hole on our approach to the islands and that the winds will actually increase a little bit; wind direction basically easterly.
What we do notice is increasing swells, reaching heights that are on occasion a few meters. Which makes for a somewhat bumpy ride. These big waves are currently coming mostly from behind, lifting the stern of the boat, pointing the boat in a downward angle, and off you go, down the slope of the wave. Since the wave is faster than the boat, you'll find the boat soon sinking into the valley of the wave with a roaring sound and gushing water all around it, and largely coming to a standstill! The sails flap, the boat turns irregularly, the driver tries to recover and the game starts over. Since other waves are coming from other sides, simultaneously and unexpectantly, the boat uses all its degrees of freedom for rotation and gives the driver (and the rest of the crew) a hard time. Staying atop of all this is possible to a degree, but never completely. You feel like being on a skislope, knees bend, and are going downhill, wiggling your butt to keep balance, for a good 40 min of your helm time. While it is fun, relieve from the helm is then quite welcome.
Looks like our water supply is exactly right without having had the need to run our watermaker. Good planning. We had a rich Barracuda dinner, and are now down to 14 steaks.
Current forecast for our arrival has further shifted to earlier times: We now expect arrival between midnight on Sunday to 3 am on Monday. The wind will be the determining factor. Current distance to go: 214 miles
The C-squared story continued: In this morning's radio call C-squared announced that they are sailing so well under jury rig that they considered themselves back in the race. They had used the engine, but declared it as an emergency use. And since they are doing so well, they may not need the food, which they had requested and eventually received from Mar Caballo, after all.
Non-sailors may not fully appreciate the saga, so here a few points: Declaring your retirement from the race retires you from the race. Period. Accepting outside help - like provisioning - disqualifies you. And so does using the engine. This afternoon, the standing report included C-squared as a "still racing" boat.
So while we are at it, here is a suggestion for consideration by the Pacific Cup Race Committee: - since C-squared has now a much shorter mast, their ratings should be improved accordingly - since their weight was increased by dumping food on them, the higher weight should be considered in the ratings as well - they should get a community award, since they managed to get the communication improved between the sailors, who struggled first on the radio and then in action to assist in the perceived emergency.
The Pacific Cup race, the so called "fun race to Hawaii", has gone a long way. Is it next going to be a "ridiculous race" ?
July 10th, 2004 8:15pm PDT, Lat: 22N 48', Lon 154W 02, Course 230M, 7.5 kn, very, very warm, lots of hot burning sunshine, few clouds, moderate wind, quite a bit bumpy seas.
Aloha,
for the crew of Cirrus,
Ulli
---
Goooooood Morning!!!
Cirrus had her best day of the race yesterday - 179 miles. She is currently going 8.3 knots and heading as fast as she can for home. The wind is up, it is sunny and clear and a large blue booby just landed on the top of the mast and is hanging of for dear life. They sound so up - it was a wonderful call!
Bill had to cut the call short - Caroline was serving scrambled eggs and bacon - etc.
So - at 0715 PST Cirrus had 117 miles to go to the finish line. Position: Lat 22 deg. 04', Lon 155 deg 36'
I will give you all a report on their finish, which is looking more like midnight now, tomorrow.
Aloha,Valerie
---
No foolin' around today. We got what we wanted, and a little bit on top of that. The wind has increased to 16 knots, with gusts exceeding 20. Since we still have the big spinnaker up, we are a bit overdressed, and are going along at a pretty good clip. Cirrus has a hull speed (a theoretical speed which a boat cannot exceed no matter how much energy you put into it, unless the boat gets into surfing mode) of about 8.5 knots. This morning we averaged 8.5 knots, with long stretches of 9+ kn. Big swells are adding to the excitement. It is not all that stable any more; moving around down below in the boat needs great caution. Staying at the helm requires concentration, or you risk a rounddown or a roundup. The former is the worse one, but either one should better be avoided. We had shortened the time at the helm to 30 min. More than enough for an exhaustive workout.
We were just treated to the last breakfast of this race with a hearty serving of scrambled eggs and bacon, and black coffee (real one). The bacon had been precooked at home and was warmed up in the oven. Frying bacon in a pan while at sea is too dangerous for reasons both of hot, liquid fat and the risk of catching fire from the gas flames. It was very good nevertheless. And we have now finished our supply of it. Time to get ashore.
I am typing this in the morning hours, the sun has just risen, when I usually was doing the roll call communication. Since Steeve, the communications boat, has docked at Kaneohe, and Kaneohe Yacht Club has taken over and is doing the calls at a later time (9am HST). So here the last call by way of email: "Steeves, Steeves, this is Cirrus, Cirrus. Thanks for doing a great job in the last almost two weeks. Cirrus standing by".
Due to the delay we also have no information on our standing in the fleet or who has finished. But we had a great day, the best performance from us during this race with 179 miles, or an average of 7.44 knot. Good. But still not touching Cirrus' own records set in 1998.
When I came on watch this night at 4am PDT, the moon was not up yet, and so it was quite dark and the horizon was nothing but a dark grey zone between the less dark grey of the sky and the more dark grey of the water . The only things visible were the dimly lit instruments, like windmeter and compass. From behind you, when at the wheel, you hear the thunder of the waves clashing together after Cirrus had ploughed through them, generating a stream of white foam, and sparks flying all over the place. The sparks are real; they look as if someone were throwing tiny Chinese firecrackers from the sides of Cirrus, which then explode with a burst of green light. In reality this is bioluminescence. The mechanism behind it is is not different from the way in which fireflies on land generate their light; in the water the mechanical agitation is sufficient to ignite the spark.
That is the way scientists want you to believe it. Only James Bond fans do know the real truth: Mr. Bloofield is running a huge underwater lab, in which he creates transgenic algae expressing Green Fluorescence Protein in a preparation to swamp the world! So now you know; and be aware of the dark men behind you!
This is likely the last message to be send out before the end of the race. We may be very busy for the rest of the day and I may not be able to get to the computer for any updates. So I am sending it out now, and we'll see what comes up.
If we keep up the pace we may even cross the finish line today at 11pm Hawaiian time, but much depends on the wind, and wether we have to jibe or not. So midnight is a good guess at this time.
I only learned today from a satellite telephone call that these mails are being published on the Pacific Cup website. Our welcome to all readers!
July 11th, 2004 11:15am PDT, Lat: 21N 58', Lon 155W 54, Course 244M, 8kn, still pleasant and not (yet) too warm, sun is shining, a few clouds, good wind, bumpy seas.
Aloha,
for the crew of Cirrus,
Ulli
---
It ain't over until you cross the finish line!

Our performance in the last 10 days or so wasn't quite what we had hoped for, but at least we were satisfied with our handling of the race and the decisions we took. The crew took the test of being very close, for a long time, in very cramped quarters and we got along well. This is a particular challenging test when low wind conditions prevail. We passed. Maybe this has lulled us somewhat into considering the last hours of the last day as a case of child's play, ignoring a teeny weeny little bit too much that this is still the open ocean with the current wind being stronger than in any other part of this race.
Nobody got hurt - except for the skipper's checkbook - but read on.
As mentioned we had the big kite up, and Adrenalin pumps were at full throttle as we ploughed through the waves. It was demanding, and we cut the helm time from 40 min to 30 min, and then to 20 min as the pace went up. Eventually is was too much, and we took the big kite down and raised the shy-kite, our smallest spinnaker (and to be fully honest the only other one left). All was done smoothly and professionally. We kept making just as many upper 8s and 9s knots as with the big kite. As I mentioned in my other mail, there is no increase in speed beyond hull speed unless you get the boat into surfing, but Cirrus is too heavy for surfing.
The finish line was on a course straight ahead from us, which meant to sail dead down wind, which is not only slower, but cumbersome to drive and also outright dangerous because of the potential for accidental jibes. So we decided to jibe and later jibe back again to be on a more favourable course. Again, smooth sail handling, we did well. But soon after the troubles started coming in.
Not only had the wind increased, but also the waves increased in size and seemed to come more frequently and vigorously. At occasions you were looking behind you when at the helm and would have to look up to see the top of the wave. Still, at this level the wave height is not a problem. The wave would lift you up, and then you would go on a downhill run with the boat, where even Cirrus would get into a little bit of surfing before crashing into the bottom of the wave with big thunder. On occasion, Cirrus would stick her nose into the wave ahead of us, and the water would come splashing from the foredeck. I spare the story on how much water can get through the foredeck hatch of about 2 x 2 feet when opened and the water is mounting about a foot above it, and what effect it has on the person using the head located below it.... (A hint: the water does NOT hover above the hatch. It seems to be hard to learn.) The sudden acceleration with the downhill run from the wave would let the sail flap, the sudden stop at the end would refill the sail with a bang. Stressful for the sails, fun to experience, but no real issue. The problems come when the boat is hit from an angle, which would get the boat into a rolling, then turning, then back turning motion, that may get out of hands. You need to concentrate on avoiding these movements by anticipating them before they even begin. Needless to emphasize further, but these roller coaster runs are very hard to control and are tiresome. This is the material of which the well feared rounddowns and roundups are made of.
We first did a roundup, where the boat leans over to its leeward side, the mast might even touch the water, the boat takes a sharp turn into the waves and comes more or less to a standstill. Time for damage assessment. In our case the shy-kite wrapped itself into an hourglass, which we could not get out while flying the kite. We took the kite down, and continued sailing with the mainsail alone at still an impressive 7+ knots! Down below Bill, John and Caroline dove into the spinnaker cloth filling the cabin and managed to get the hourglass out. Whew! Up it went again and we continued at the fast pace.
We were preparing for the jibe back, discussions on the procedure, brief, very brief moments of a lack of full concentration and it happened. Rounddown! This is screwing up the other way, and is particularly bad when you have the spinnacker up. Reason is that to fly a spinnacker you need a spinnaker pole, which sticks out from the boat to the other side from the mast boom. By turning away from the wind and as a consequence leaning to the side of the pole, the pole will go into the water. Since the spinnaker is tightly attached to the pole, the sail cloth goes in the water as well. No sail withstands being pulled through the water at several knots of speed. Our shy-kite burst with fury and two thirds of the sail flew away within a second. We wished the rest would have flown away as well, but no, it had chosen to wrap itself around the forestay tightly. The forestay is the line which goes from the bow of the boat to the top of the mast and stabilizes the mast against backward motion. On our boat with a so called furling jib the jib is wound up tightly around the forestay. To prevent the spinnackers from twisting around the forestay, we have also installed a spinnaker fence, which are a few simple lines mounted in the triangle deck-forestay-mast. It had been very effective so far, but the blown up spinnaker had chosen to thread itself through the fence for a super tight wrap. The remainder of the spinnaker then flew from the forestay like a monstrous battle flag, we could not get it down; without getting it down we could not get the jib up as we could not unfold it from the forestay. We were doomed. Imagine the embarrassment of crossing the finish line with such a mark flying ahead of us. Tahiti began looking like a very attractive place to be (course 180 magnetic).
It got to come down. John, Caroline and myself were on the foredeck at the bow, Bill at the mast, and we tried desperately to get the thing off the forestay. With our weight located at the forward most position on the boat, Cirrus dove deeper and more often into the next wave, and the water was rushing over deck around our feet and legs, trying to sweep everything overboard again that we had just scrambled to get on deck, and the boat's motion seemed to be more irregular than ever.
We guys were ready to give up, chin dropping to the chest, prepared to take the embarassment. The skippers face suggested total disgust with that thing up in the air. You should then have seen Caroline! She threaded herself around the bow pulpit to actually stand outside the boat and started fighting like a lion protecting her puppy. Pulling, flapping, zipping at all lines from spinnaker, spinnaker sock, spinnaker fence, and shouting something that sounded like Hawaiian voodoo, sprinkled generously with things that would take too many "beep-outs" to reproduce here, she - and we, what else could we do ? - faught furiously for some half hour, struggling with lines entangling us, and the water gushing around us on the foredeck and around the boat. The sun had set, it was getting dark. That poor spinaker fragement didn't stand a chance. Lioness Caroline saved the day!
It still wasn't over yet.
We got the white sails up and sailed towards the finish line. Some 40 miles to go. The night was pitch black, no moon up, some stars peeking through the cloudy sky. In the far distance we saw some glooming light at the horizon, like a moonrise coming up in a few minutes. This was the first sign of Kaneohe, on the Island of Oahu, State of Hawaii.
All GPSes on board were set to the presumed place of the finish line buoy. Eventually, that buoy came into sight, with its flashing yellow signal mounted on top of it. What could go wrong? Well, have you ever approached a busy harbour in the night? If you have, you will have noticed that it is very hard to maintain depth perception. You will have trouble distinguishing between lights nearby and farther away. In particular, the flashing light of the buoy seems to be detached from the body of the buoy and be coming from some place else. In the final feet of approach Cirrus was pointing directly to the buoy! I shouted " turn hard to right", skipper followed advice from his navigator, we passed the finish line!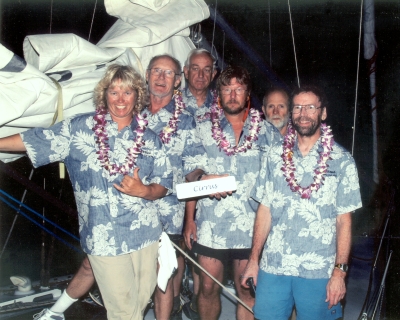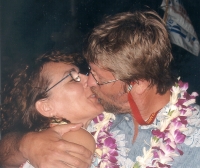 We went into the marina via the Sampan channel, docked, and went ashore with wiggely sea legs. We got the Mai-Tais, got some incredible pine apples, were decorated with the Leis, got the kisses from the spouses.
It now was officially over.

Final mail after the award dinner, when we have had time for some reflection over the whole thing.
July 12th, 2004 - sitting in the empty boat in the marina of Kaneohe
Aloha,
for the crew of Cirrus,
Ulli